Of late I've been feeling a little short in terms of intellectual stimulation. Maybe it was my decision at work to hunker down and focus on execution and tying up loose ends this quarter, rather than embarking on fresh exploratory work. Maybe it's just that I'm not meeting too many people.
The last time I REMEMBER feeling this way was in May-June 2007. I clearly remember the drive (I was in my old Zen, driving past Urvashi Theatre on an insanely rainy Sunday afternoon, having met friends for lunch) where I felt this way. Back then, I had responded by massively upping my reading – that was the era of blogs and I had subscribed to hundreds on my bloglines (remember that?). I clearly remember feeling much better about myself by the end of that year.
Now, I continue to read, and read fairly insightful stuff. I'm glad that Substack has taken the place that blogs had in the noughties (after the extreme short-form-dominated 2010s), and have subscribed (for free) to a whole bunch of fairly interesting newsletters.
What I miss, though, is the stimulation in conversations. Maybe it's just that I'm having way fewer of them, and not a reflection of the average quality of conversations I've been having. I've come to a stage where I don't even know who I should meet or what I should talk about to stimulate me.
With that background, I was really happy to come across my (2000) JEE maths paper on Twitter. Baal sent it to me this afternoon when I was at work. Having got home, had dinner and dessert and sent off the daughter to bed, I got to it.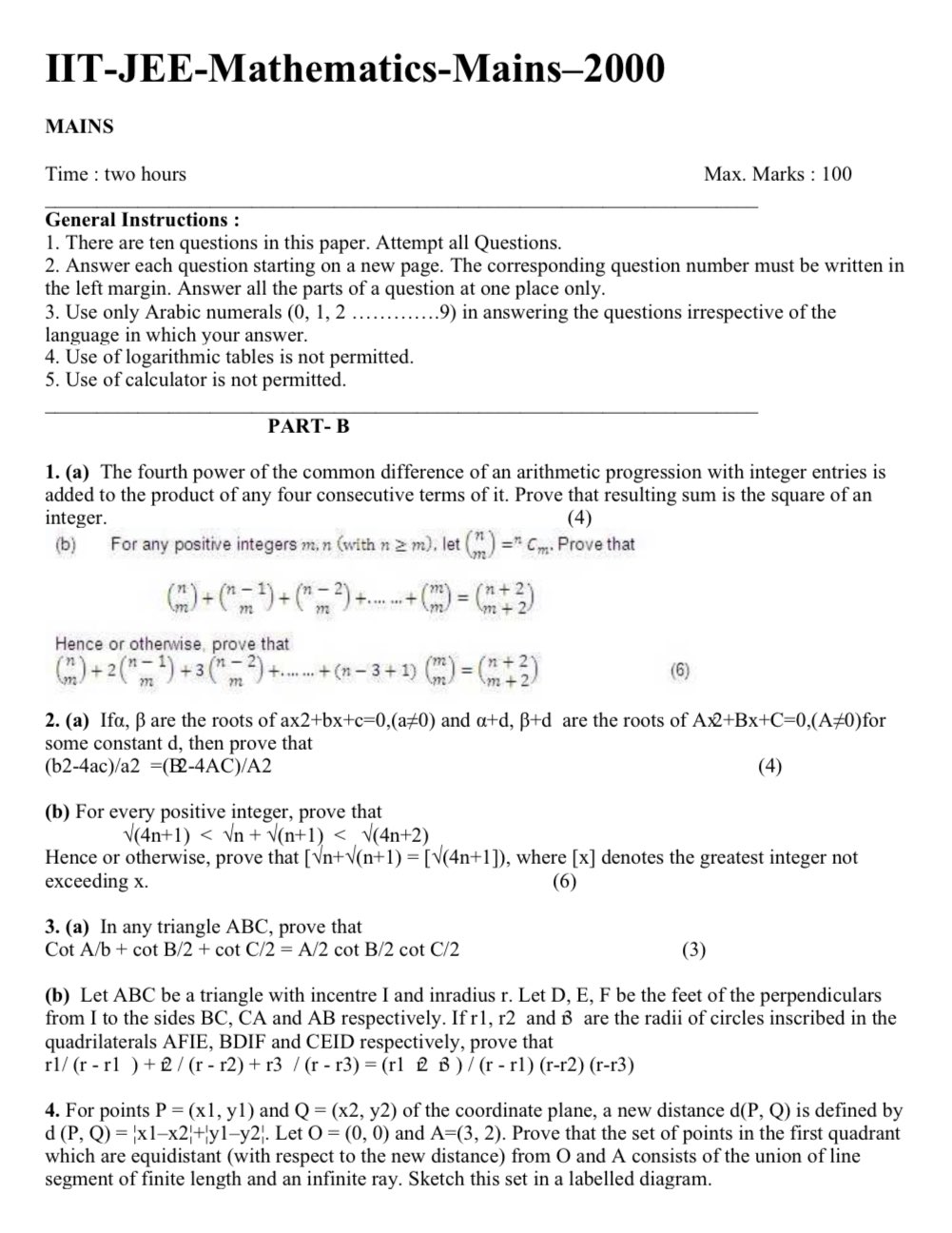 Memories of that Sunday morning in Malleswaram came flooding back to me. Looking back, I'm impressed with my seventeen year old self in terms of the kind of prep I did for the exam. For the JEE screening that January, I had felt I had peaked a week too early, so I took an entire week off after my board exams so that I could peak at the right time.
For a few days before the exam, I practiced waking up really early, so that I could change my shit rhythm (the exam started at 8am in Malleswaram, meaning we would have to leave home by 7. Back then, you didn't want to go to any toilets outside of home). The menu for the day had been carefully pre-planned (breakfast after the maths exam, lunch after physics).
The first fifteen minutes or so of this maths paper I had blanked out. And then slowly started working my way from the first question. I remember coming out of the exam feeling incredibly happy. "I'm surely getting in, if I don't screw up the other papers", I remember telling some friends.
Anyway, having seen this paper, I HAD to attempt it. I didn't bother with any "exam conditions". I put on a "heavy metal" playlist on spotify, took out my iPad and pencil, and started looking at the questions.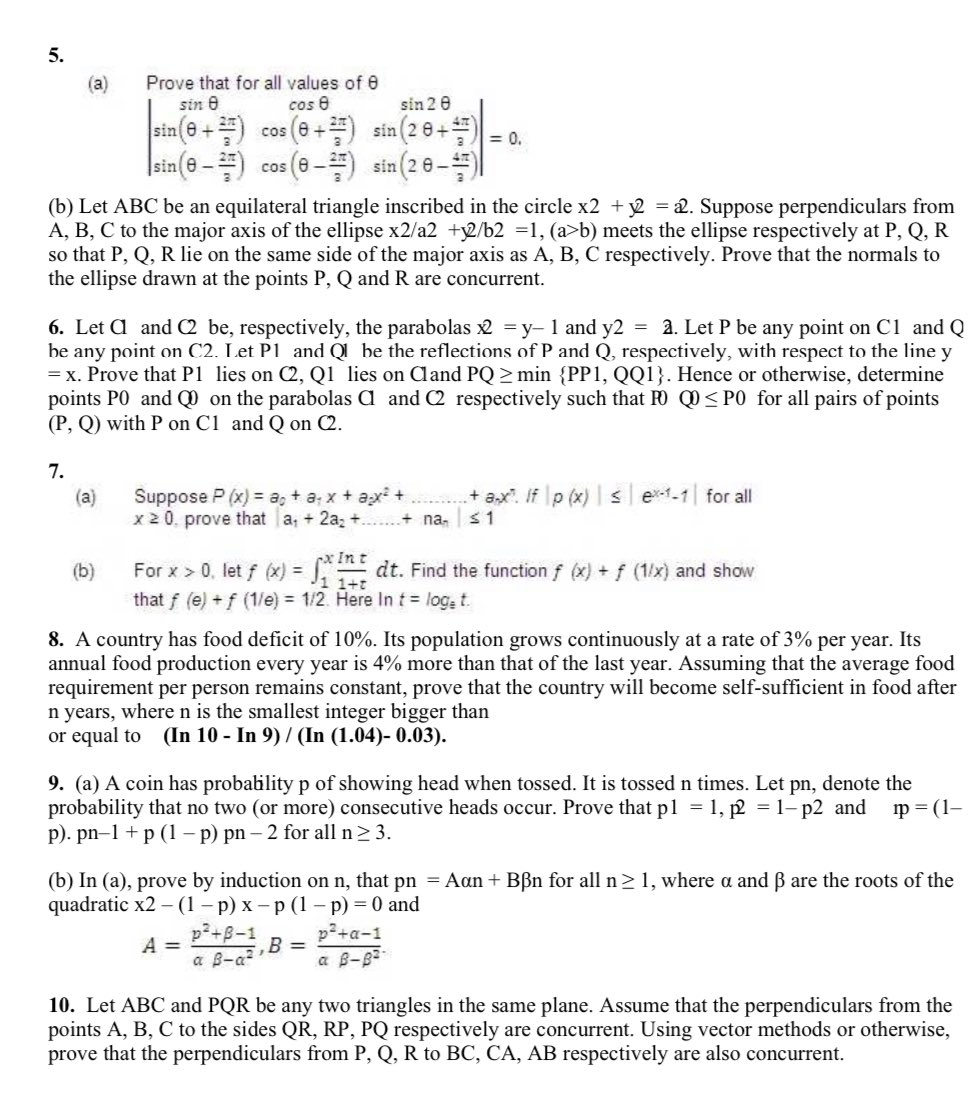 I took 15 minutes for the first part of the first question. While I was clearly rusty, this was a decent start. Then I started with the second part of the first question, got stuck and gave up.
I started browsing Twitter but decided the paper is more interesting. The second question was relatively easy. I left the third one (forgotten my trigonometry), but found the fourth one quite easy (and I remember from my JEE about encountering Manhattan Distance ). The second half I didn't focus so much on today, but was surprised to see the eighth question – with full benefit of hindsight, it's way too easy to make it to the JEE!
I didn't bother attempting all the questions, of "completing the paper" in any way. I didn't need that. I haven't decayed THAT MUCH in 23 years. And this was some nice intellectual stimulation for a weekday evening!
PS: I don't think I'll feel remotely as kicked if I encounter my physics or chemistry IIT-JEE papers.
PS2: Now one of my school and IIT classmates is pinging me on WhatsApp discussing questions. And i'm finding bugs in my (today's) answers