So I have this lecture on "smelling (statistical) bullshit" that I've delivered in several places, which I inevitably start with a lesson on how correlation doesn't imply causation. I give a large number of examples of people mistaking correlation for causation, the class makes fun of everything that doesn't apply to them, then everyone sees this wonderful XKCD cartoon and then we move on.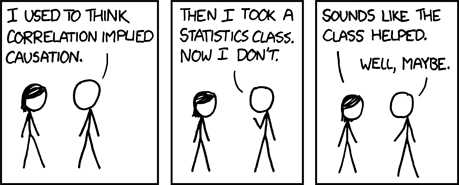 One of my favourite examples of correlation-causation (which I don't normally include in my slides) has to do with religion. Praying before an exam in which one did well doesn't necessarily imply that the prayer resulted in the good performance in the exam, I explain. So far, there has been no outward outrage at my lectures, but this does visibly make people uncomfortable.
Going off on a tangent, the time in life when I discovered to myself that I'm not religious was when I pondered over the correlation-causation issue some six or seven years back. Until then I'd had this irrational need to draw a relationship between seemingly unrelated things that had happened together once or twice, and that had given me a lot of mental stress. Looking at things from a correlation-causation perspective, however, helped clear up my mind on those things, and also made me believe that most religious activity is pointless. This was a time in life when I got immense mental peace.
Yet, for most of the world, it is not freedom from religion but religion itself that gives them mental peace. People do absurd activities only because they think these activities lead to other good things happening, thanks to a small number of occasions when these things have coincided, either in their own lives or in the lives of their ancestors or gurus.
In one of my lectures a few years back I had remarked that one reason why humans still mistake correlation for causation is religion – for if correlation did not imply causation then most of religious rituals would be rendered meaningless and that would render people's lives meaningless. Based on what I observed today, however, I think I've got this causality wrong.
It's not because of religion that people mistake correlation for causation. Instead, we've evolved to recognise patterns whenever we observe them, and a side effect of that is that we immediately assume causation whenever we see things happening together. Religion is just a special case of application of this correlation-causation second nature to things in real life.
So my daughter (who is two and a half) and I were standing in our balcony this evening, observing that it had rained heavily last night. Heavy rain reminded my daughter of this time when we had visited a particular aunt last week – she clearly remembered watching the heavy rain from this aunt's window. Perhaps none of our other visits to this aunt's house really registered in the daughter's imagination (it's barely two months since we returned to Bangalore, so admittedly there aren't that many data points), so this aunt's house is inextricably linked in her mind to rain.
And this evening because she wanted it to rain heavily again, the daughter suggested that we go visit this aunt once again. "We'll go to Inna Ajji's house and then it will start raining", she kept saying. "Yes, it rained the last time it went there, but it was random. It wasn't because we went there", I kept saying. It wasn't easy to explain it.
You know when you are about to have a kid you develop visions of how you'll bring her up, and what you'll teach her, and what she'll say to "jack" the world. Back then I'd decided that I'd teach my yet-unborn daughter that "correlation does not imply causation" and she could use it use it against "elders" who were telling her absurd stuff.
I hadn't imagined that mistaking correlation for causation is so fundamental to human nature that it would be a fairly difficult task to actually teach my daughter that correlation does not imply causation! Hopefully in the next one year I can convince her.