Today and tomorrow are a series of parent teacher meetings at my daughter's school. Consequently, the school is closed for the children (since teachers are busy meeting parents all day).
Having observed this pattern last year we decided it's a good time to an extended weekend holiday, and quickly booked the first available Thursday slot and headed out.
I'm writing this from Madurai. The taj gateway here is a fantastic hotel, with a magnificent view of Madurai city. In the evening, there were wonderful sounds from the birds here. We saw lots of peacocks and a mongoose, and my daughter inferred that "there must be lots of snakes here".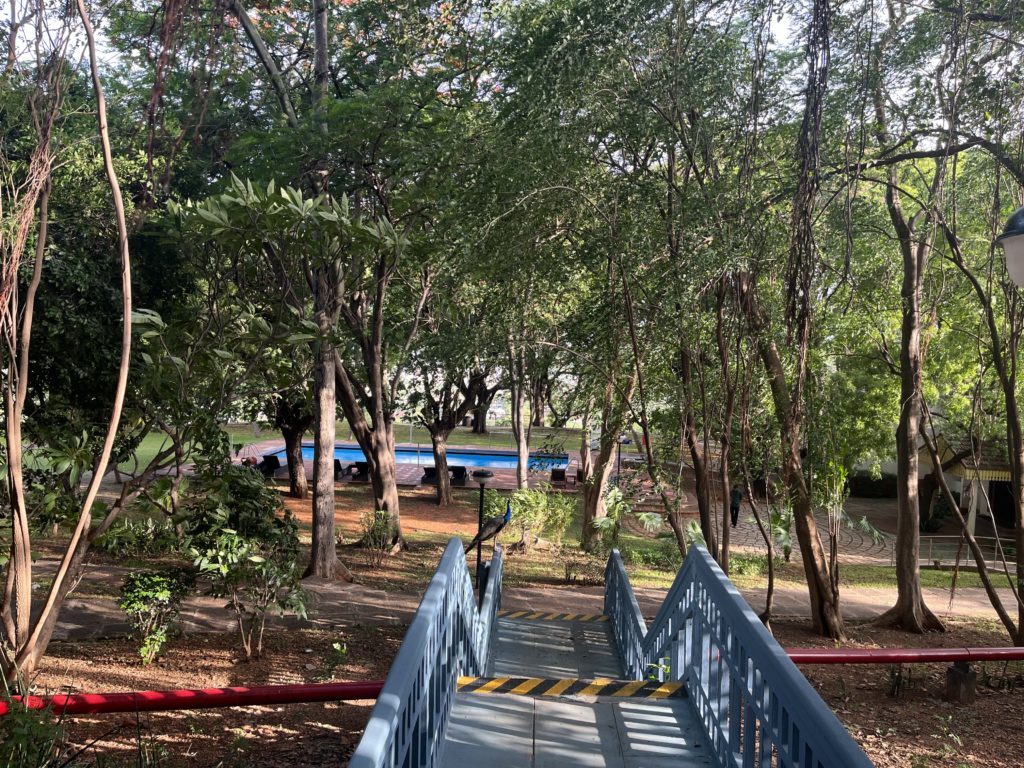 This is my first time ever in this part of Tamil Nadu. Although I went to college in chennai, I didn't travel much around. So the only parts of Tamil Nadu I'd seen before were the areas around Chennai (Kanchi, mahabs, etc), the hill stations of Ooty and Kodaikanal and one trip to Palani when I was very very young.
As a family we like driving holidays. It gives us flexibility in terms of itineraries, and all we need to fix are the hotels. Also, we can travel at our own pace, deciding to stop or slow down or see some interesting thing on the way.
My first surprise today was the terrain. Maybe I don't pay enough attention to "physical maps", so had missed that central Tamil Nadu is hilly! I mean I know krishnagiri is hilly (once our bus from chennai to bangalore was unable to climb a slope there and we'd been made to get off and walk a short distance). I know yercaud exists near Salem. But I hadn't expected so many low hills along the way.
And so while driving I was thinking – when you drive (rather than take a bus or train) you pay attention to your surroundings and the terrain and the people around and all that. And you notice the road signs – the ones saying "ghat section. Go slow" were hilarious given the magnitude of the said ghats (mountains and passes ).
The second surprise was the highways – most of our drive today (from Silk Board to very near Madurai) was along the north south corridor (now NH44, earlier NH7). The number of barricades across the road in Tamil Nadu was not funny.
Wherever there was a cut in the road for cross traffic, there were barricades, so that traffic had to slow down to a snails pace to get around them. In some places it seemed downright dangerous, since you couldn't see (thanks to bends, trucks ahead, etc) the suddenly approaching barricades.
I find them rather bizarre – I've never come across them on any highways in Karnataka. I haven't seen them on the same NH44 north of bangalore (in AP). It's only in Tamil Nadu. And these are supposed to be national highways! And this was my fastag bill for the day!
The biggest surprise of the day, though, was the role of women I observed in the economy here.
I remember when I moved back from Gurgaon to bangalore in 2009, that in Gurgaon many jobs that are done by women in bangalore are done by men (bank clerks, gas agency operators, street vendors, etc). Now I find that Tamil Nadu takes this to another level.
Pretty much all the fastag booths we passed today were manned by women. Almost all the waiters in the place we had lunch at today were women (to be fair, it was called Selvi (Tamil for young woman) Mess) – not seen this in bangalore. And on multiple occasions I saw middle aged women in saris riding along the highways on Luna's / TVS50s, some carrying heavy loads on their bikes. Oh – and the 50cc scooter category again seems Tamil Nadu specific – in bangalore most people have activas or similar scooters. Nothing smaller.
Food has been excelllent so far on the tour. Selvi mess was great – simple rice and biryani with meat side dishes. Back in 2013 when I went to Lucknow, a friend had said "don't waste your appetite eating chicken". The same applies in this part of Tamil Nadu as well – the mutton is far better.
Dinner was at this "bun parotta" place here in Madurai. Again unassuming and quick (we were in and out in 20 minutes). There I saw an interesting concept – you would be served on plantain leaves and at the end of the meal you had to clear away your own leaves (and residues) and put it in the bin.
I know Tamil Nadu is a bit ahead of other Indian states with it comes to countering caste oppression but I'm curious to know the origins of this "clear your own leaf" concept. Maybe it's a Covid thing also!
This is a packed trip and tomorrow we move to the nearby Chettinad region, seeing Chettinad mansions and stuff. Hopefully I'll keep you posted!
Food recommendations (including for breakfast in Madurai, if you can tell me in the next 10 hours) are welcome!