The first encounter between Liverpool and Southampton in the 2013-14 English Premier League season happened at Anfield in September, and Southampton won 1-0 with a Dejan Lovren goal from a set piece. So when the two sides met again at St. Mary's in the latter half of the season, with Liverpool chasing the title, it was known that it would be a tough game for Liverpool.
Southampton dominated the first half, playing a front four of Steven Davis, Adam Lallana, Jay Rodrigues and Rickie Lambert. However, it was Liverpool who scored in that half, and led 1-0 at the break. Here is a picture I found on twitter that was uploaded at half time: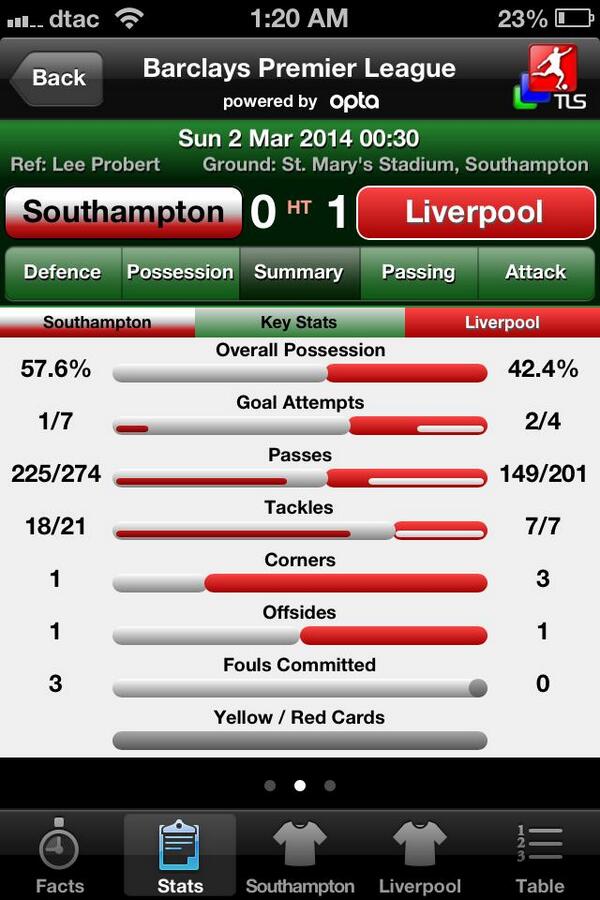 Southampton manager Mauricio Pochettino decided to change things for the second half. He took off his most unspectacular forward player Steven Davis and replaced him with Gaston Ramirez, the promising Uruguayan. Soon, Southampton unravelled and Liverpool completely dominated the second half as they won 3-0.
Now, there is no doubt that Ramirez is more talented than Davis and is definitely a better player in general. However, in the context of the rest of Southampton's team, Ramirez's introduction proved to be a disaster and there was little cohesion in their attacking play from the time he came on. Southampton became a disjointed team and went out of the game.
This has led me to define what I have come to call the "Steven Davis role". It is basically a player who is not individually the best, but provides some kind of a glue that holds the team together. The player's key skill, rather than looking at it from traditional axes such as passing or shooting or tackling or intercepting, is to change position, and to make sure that the team holds its shape at all times. It is to make sure that any players who are out of position are covered for, and that the attack retains its shape and focus.
Now, it must be remembered that last season Southampton's attacking play was primarily based on strong movement and interplay between their front four. They had nominal positions defined, but they hardly stuck to those as they moved around in attack. Thus, Lambert who would start upfront would sometimes appear on the wing, with the nominal "number ten" Lallana going forward, for example.
And key to this system was Davis, who wasn't particularly talented, but who would move in a way that would balance the attack. If the other three would move left to attack, he would take up a position slightly to the right – not too far away from the attack but providing a kind of counterbalance. He never led attacks himself, but he was always available to support the others' attacks. And this is what made Southampton dangerous.
Once Davis had gone off, Southampton had no one to play this role. The kind of interplay they had in the first half disappeared. And their attacks became toothless and each attack had only one dimension which was easy to cover even for Liverpool's normally shaky defence, as they kept a clean sheet.
It was a similar case I saw last night at the Camp Nou, with Barcelona's Pedro Rodriguez playing in a "Steven Davis" role. Messi started in the middle and Neymar wide on the left. Pedro nominally started on the right. But soon it became clear that he was a kind of a "wide support striker" – his job was to appear in positions that complemented the rest of the attack rather than being in positions where he led the attack (though he did lead one glorious counterattack where he hit the post). It was like a kind of balance that he offered the team, and ensured their attacks had coherence (of course this being Barcelona they had Iniesta and Rakitic just behind to offer more "focal points").
Last night was the last game of Luis Suarez's ban, and it will be interesting what Barcelona do with him when he gets back this weekend. The instinct will be to remove Pedro in his favour, but it is not clear if an attack of Messi-Neymar-Suarez will be able to offer the same kind of coherence as an attack of Messi-Neymar-Pedro. That said, Suarez is an extremely intelligent player and showed in his Liverpool days that he is capable of being a "fighter", so he might as well be played. But that will mean that Neymar will have to occasionally play the Davis/Pedro role, and it is not clear if he is capable of doing that.
We are in for interesting times.
The post has so far focussed on football but it is evident that his kind of a role is necessary in other team situations, including corporate teamwork, also. Sometimes you need that one guy who need not be individually spectacular, but is versatile and mobile enough that he can do several things, fill in for different people and make sure that any team he is part of will be "complete". And in the absence of one such guy, the team can lose coherence and fail in its task.