If you were to do a ranking of Masale Dose in different restaurants in Bangalore, I would say that the clear winner would be the one served at The Restaurant Formerly Known as Central Tiffin Room (TRFKACTR, now known as Shree Sagar). Soaked in ghee (melted butter), extremely crisp on the outside and soft on the inside, and served with two awesome chutneys, it is an experience every visitor to Bangalore must experience (Warning: Not good for your lipid profile, though). Except if you go on a Sunday morning.
The first time I visited TRFKACTR was on a Sunday morning in early 2010. While I was quite impressed by the product itself, I wasn't so impressed by the ambiance and the operations. It was a Sunday morning and the restaurant was crowded. People were waiting around all over the place waiting to get a seat. Waiters would do nothing to assist you to get a table. And once seated, service was inefficient and slow – the waiters didn't show any urgency given the size of the crowd at hand. It would remain my last visit to TRFKACTR in close to two years.
And then I shifted my residence, and moved to a house within two kilometres of TRFKACTR . I've since visited the restaurant several times (I've lost count), and have come away impressed each time. On none of my subsequent visits have I had any complaints about the service and operations, either. I've got a table immediately (though usually shared with strangers, as is the practice in such restaurants), been relieved that the waiters are actually not in a hurry and leisurely enjoyed my Butter Masale Dose without being bothered by crowds waiting to grab my seat. In the process I've also understood why the waiters didn't show any urgency on that crowded Sunday morning when I first visited.
I had breakfast at TRFKACTR this morning, and the restaurant looked like this: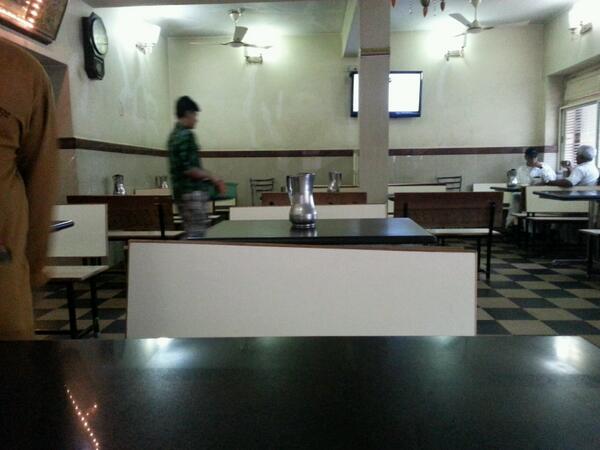 While this is an extreme case – I went early on a drizzly morning, and the restaurant had just opened – the thing with TRFKACTR is that most of the time it runs at or just below capacity. On any given day, as long as it is not a Sunday morning, you can expect to find a seat as soon as you visit the restaurant. You get served at a leisurely pace (though not too leisurely – this restaurant relies on high table turnover), and can eat in peace.
We need to recognize that "business as usual" in TRFKACTR involves the restaurant running at or close to capacity, and the operations at the restaurant have been optimized for this. That operations are stretched on a Sunday morning is not bad planning by the restaurant – it is a conscious decision by the restaurant that the crowds are a once-in-a-week occurrence and they will not optimize for that. While it might make sense to learn and plan for a different set of procedures on Sunday morning, we need to keep in mind that kitchen and table capacity are limited (slow service at the table on my first visit was perhaps due to a constraint on kitchen capacity) and differential pricing for Sundays is unlikely to go down well with customers.
Instead, what has happened is that customers (the regulars, at least) have learnt that the restaurant is really crowded on Sunday mornings and have shifted their gratification via Butter Masale Dose to other days. It is very likely that a majority the crowd that still comes to the restaurant on a Sunday morning consists of "tourists" – non-regulars who want to see what the restaurant is like.
PS: I've visited the restaurant once again on a Sunday morning after that initial visit. I had gone alone, but found a seat immediately. It is a possibility that my perception that the restaurant is really crowded on all Sunday mornings suffers from small sample bias.